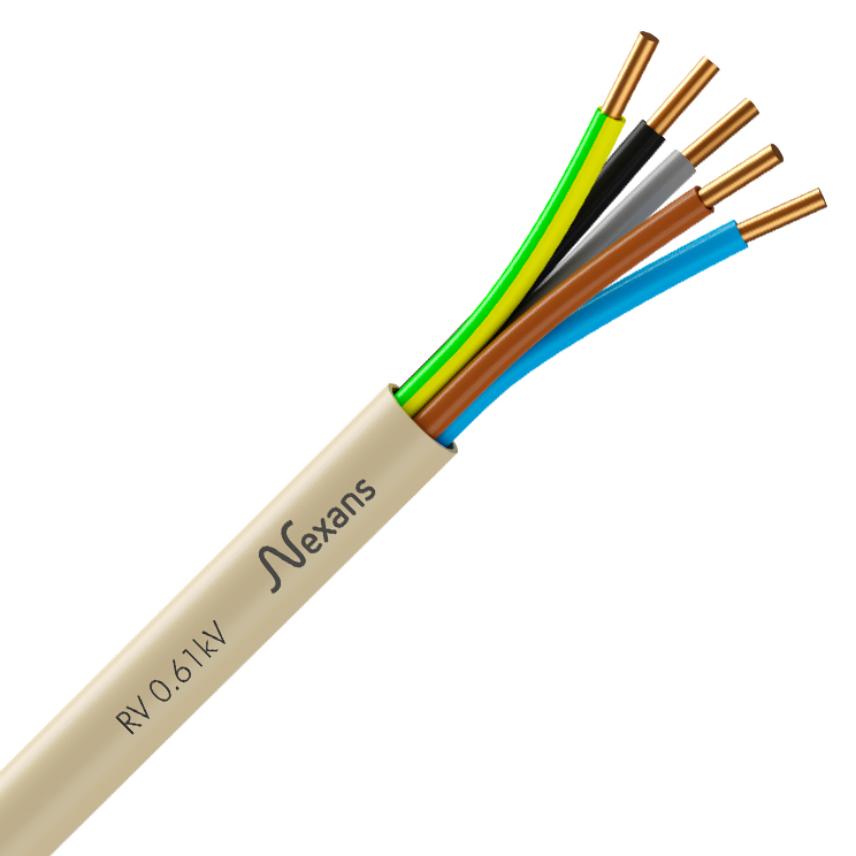 Rigid and semi-rigid cables for industrial installations. Familly product which integrates the new RV 0.6/1Kv cables for sections from 1.5 to 2.5mm², from 3 to 5 conductors. Almost all RV cables are manufactured in France More information on www.nexans.fr
Leia mais
Descrição
Descrição
Padrões
Internacional

IEC 60502-1
Application
These RV 0.6/1Kv cables with XLPE insulation and PVC outer sheath can be used in all low voltage power installations. Multiconductors cables are adapted to remote control and telecontrol installations.
METRIUM™ metric marking is available for all packaging in coil)
Installation
These cables can be fixed on cable trays, within conduits or fixed to walls, installed outside. They also can be buried directly with extra mechanical protection.
Marking
NEXANS Factory n° RV 0.6/1kV n (G) s mm² IEC 60502 90° Eca
n = number of cores
s = section in mm²
G = with Green-Yellow
Permissible current and voltage drop are given

a) in free air, sheltered from sun, on cable tray or bracket, on cable ladder, and spaced from the wall, temperature = 30°C.
b) buried with thermal resistivity of the ground 1Km/W, laying depth : 600 mm, temperature = 20°C.
If conditions are differents, apply correction factors from NF C 15-100 standard or equivalent national standard
Voltage drop
Calculated with cos φ = 0,8
Características
Características
Construction characteristics
Construction characteristics
Electrical characteristics
Electrical characteristics
Usage characteristics
Usage characteristics
Operating temperature, range
Recursos
Recursos
Nossos sites
Selecione seu país para encontrar nossos produtos e soluções